How much of this is fiction.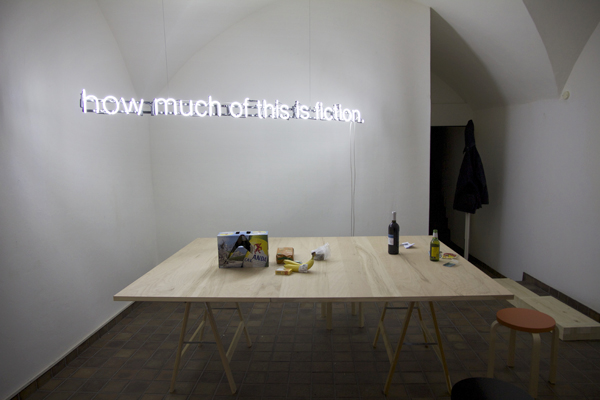 2014, Neon sign, white, 20 x 270 cm, freely suspended, permanently illuminated. Ongoing project.
'How much of this is fiction.' is a permanently illuminated neon sign. Depending on the context and the time of day, this statement of light can be read and interpreted differently: as a subtitle for its environment, a spatial commentary, a hanging question or an assertion. The respective placement is carefully chosen and is part of the work. The piece can be placed inside or outside, it involves its environment and establishes a playful tension with its immediate context. Installed in subtly selected public spaces, landscapes, archives or museum collections it becomes a performative, site specific installation and questions, exposes and refers on invisible historical backgrounds, legends or political realities inscribed into the respective sites and their surrounding landscape and invests into an imaginary exploration of realities.
Supported by the Art Commission of the City of Bern