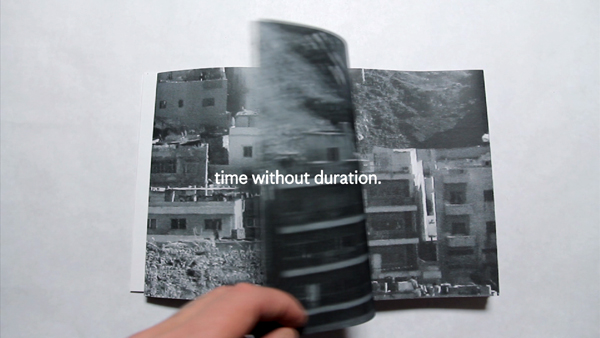 Landscape(Un)folded #3 – Video HD, 11 min., part of the work group Landscape(Un)folded ©2012
book___ vitrine___ panoramic image___ video
Landscape (Un)Folded is a workgroup resulting from an artist residency in Amman, Jordan 2011 (invitation of the Darat al Funun, the Swiss Embassy in Amman and Pro Helvetia).
The collected material was fragmentary and subsequently cut up, folded and rearranged, in order to gain a new approach to the imagery and its further manipulation. The following work series results from this process:
An image was cut up and pieced together as a book. The unfolded pages of this book appear to construe a landscape or a model, which in turn has been layed out and re-photographed.
The entire work is a transformation of a static image into a temporal plane — from image, to book, to page turning and from the book as a 3-dimensional object into a 4-dimensional, time-based film.
The work process and the transformation from medium to medium are also reflected in the video's text. In the film, the image becomes a leafed through book provided with commentary. Image and text are 'read'. The text is spatially situated above, similar to subtitles: a fragment-type text on memory, time, paper, composition, layers and orientation. A personal statement of an urban experience and a personal reprocessing and remembrance of a place, which remained foreign in the moment, but opened up to me through time and postproduction to become a place of memory.
Video-Preview:
Landscape (Un)folded (Exerpt). Video HD, 11.22 min, 2012